July 30, 2021

As previously reported the NationWide IV Self Storage & Auto Wash Trust ("NationWide") investment program for our development property at 2337 King George Blvd, Surrey BC (the "South Surrey Property") was well received by the capital markets and the offering closed in November 2020.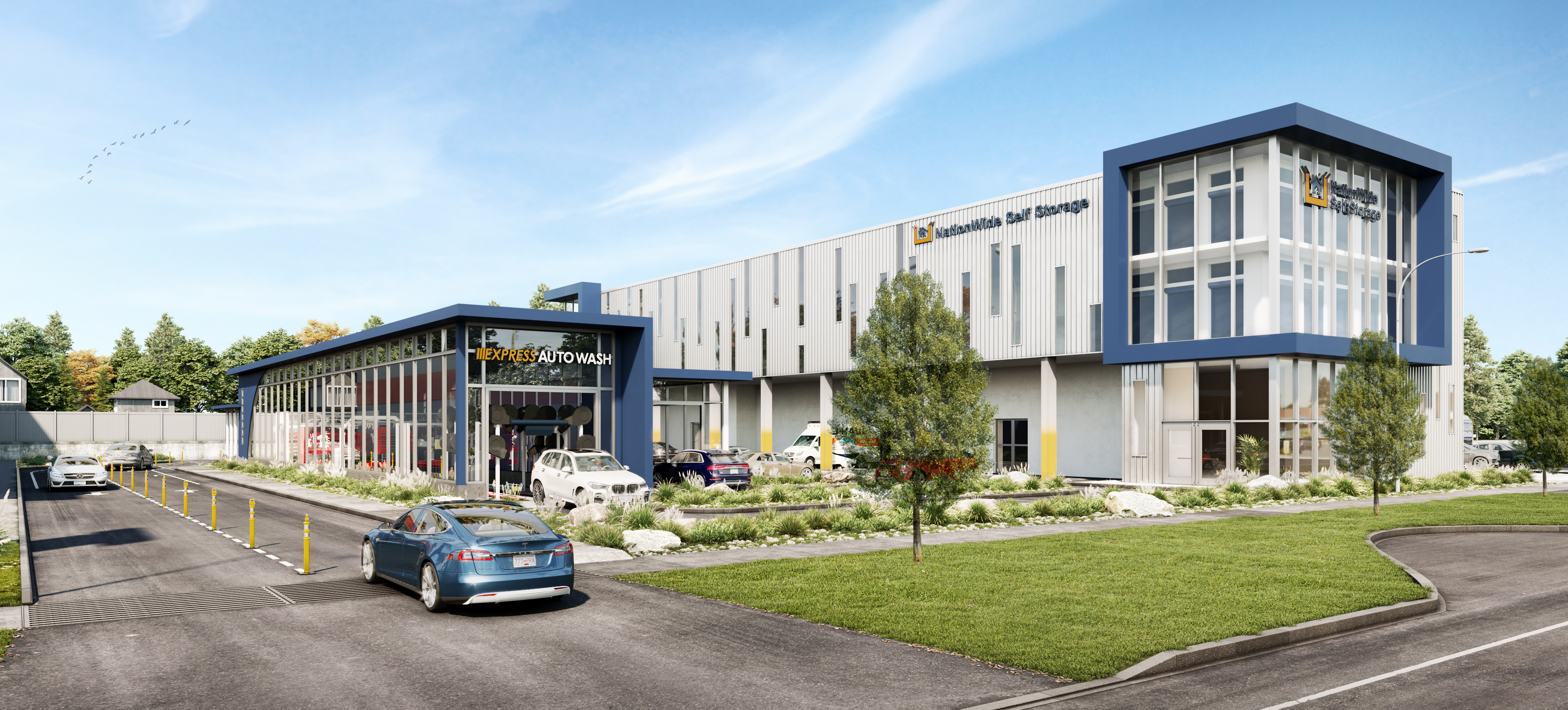 BUILDING PERMIT
BFA Studio Architects ("BFA"), our architect submitted the Building Permit application to the City of Surrey in February, just a few months after the offering closed.
BFA have continued daily communication with the City of Surrey in relation to the Building Permit issuance. We are told the Building Permit has been approved by City Council and we should be in receipt of it imminently.
As such, we have gone to tender and are currently in the final tender stage with submission date for selected contractors/bidders on Friday August 13th. Once all bids have been received from contractors, the final selection will be made. As the cost of steel and concrete and general construction as a whole has increased in the past 12 months, we are expecting estimated construction costs to exceed our original budget.
VISIBILITY & TRAFFIC
Offering easy access off King George Blvd and 24th Ave intersection, this South Surrey/White Rock property is near upcoming neighborhood developments occurring in the region and is only minutes away from one of the largest retail corridors in the Lower Mainland.
SELF STORAGE DETAILS
| | |
| --- | --- |
| ­­Building Size | 80,000 sq. ft. (building only) |
| Building Height | 1 basement level, plus 3 floors above ground |
| Facility Profile | 65,000 sq. ft. net rentable storage including sky lockers, exclusive of parking, hallways, elevator(s), etc. |
| No. of Lockers | Approximately 845 Storage Lockers |
| Locker Size | Average size to 70-80 sq. ft. |
| Completion Date |  Estimated to be the 1st Quarter 2023 |
AUTO WASH DETAILS
| | |
| --- | --- |
| Car Wash Size | 4,000 sq. ft. (building only) with a 140 ft. express EDT tunnel |
| No. of Car Washes | Maximum of up to 150 per hour |
| No. of Vacuums | Approx. 10-15 dual-nozzle pivot stations |
DON'T MISS OUR QUARTERLY UPDATES
Please email info@nationwideselfstorage.ca to be added to our email list and be sure to add our email address to your contacts so you don't miss our Quarterly Investor Updates.
To download a PDF of this update, click here.
---
THE ABOVE INFORMATION IS SPECIFIC TO NATIONWIDE SELF STORAGE & AUTO WASH TRUST AND ITS PROPERTY AT 2337 KING GEORGE BLVD. SURREY, BC. TO REVIEW OTHER PROPERTIES RELATED TO NATIONWIDE SELF STORAGE, PLEASE VISIT OUR WEBSITE.
This information is general in nature and does not constitute an offer to sell or an advertisement, solicitation, or recommendation to buy securities. Nothing on these pages constitutes investment, legal or tax advice, nor was it prepared in consideration of the investment objectives, financial situation, particular needs of any specific recipient. There can be no assurance that investments will perform as or be of the quality anticipated. There are risks associated with any investment.