October 31, 2021

We are pleased to provide you with an update on our NationWide II Self Storage & Auto Wash Trust ("NWSS II") property located at 2055 Boundary, Vancouver, BC (the "Boundary Property").
CONSTRUCTION UPDATES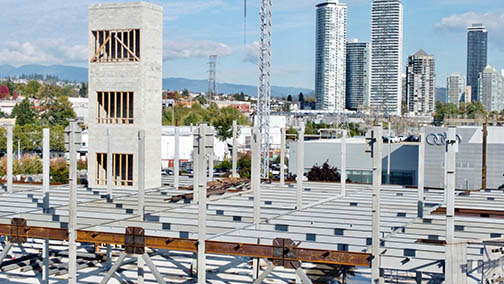 Throughout 2021, Maple Reinders Constructors Ltd. ("Maple Reinders") has continued to make solid progress at our Boundary Property.
At this time, the third floor steel beam framing has been completed and now rebar and slab work has begun. The elevator shaft is also completed.
Janus lockers are in production with install estimated to commence in January 2022.
Our project managers at BTY, along with NationWide management are taking all possible actions to avoid COVID oriented delays in receiving major equipment and materials for locker and car wash completion.
The car wash construction is progressing very well and key milestones have been met on time. Car wash equipment is in production with install scheduled to start late December.
Overall, we are pleased with Maple Reinders' progress and we are currently on target for a late Q2, 2022 opening time.
QUARTERLY UPDATES AND DEVELOPMENT PHOTOS
Please visit our Boundary Property Overview page on our website where you will find all relevant project details, the latest investor updates and our latest architectural drawings and building pictures.
Please email info@nationwideselfstorage.ca to be added to our email list. Make sure to check your junk folder and add our email address to your contacts so you don't miss our Quarterly Investor Updates.
To download a PDF of the update, click here.
---
THE ABOVE INFORMATION IS SPECIFIC TO NATIONWIDE II SELF STORAGE & AUTO WASH TRUST AND ITS PROPERTY AT 2055 BOUNDARY RD, VANCOUVER, BC. TO REVIEW OTHER PROPERTIES RELATED TO NATIONWIDE SELF STORAGE, PLEASE VISIT OUR WEBSITE.
This information is general in nature and does not constitute an offer to sell or an advertisement, solicitation, or recommendation to buy securities. Nothing on these pages constitutes investment, legal or tax advice, nor was it prepared in consideration of the investment objectives, financial situation, particular needs of any specific recipient. There can be no assurance that investments will perform as or be of the quality anticipated. There are risks associated with any investment.