Feb. 15, 2023
We are pleased to provide you with a review and update of our construction progress and milestones as of December 31, 2022, for NationWide IV Self Storage & Auto Wash (the "South Surrey Property" or "Property").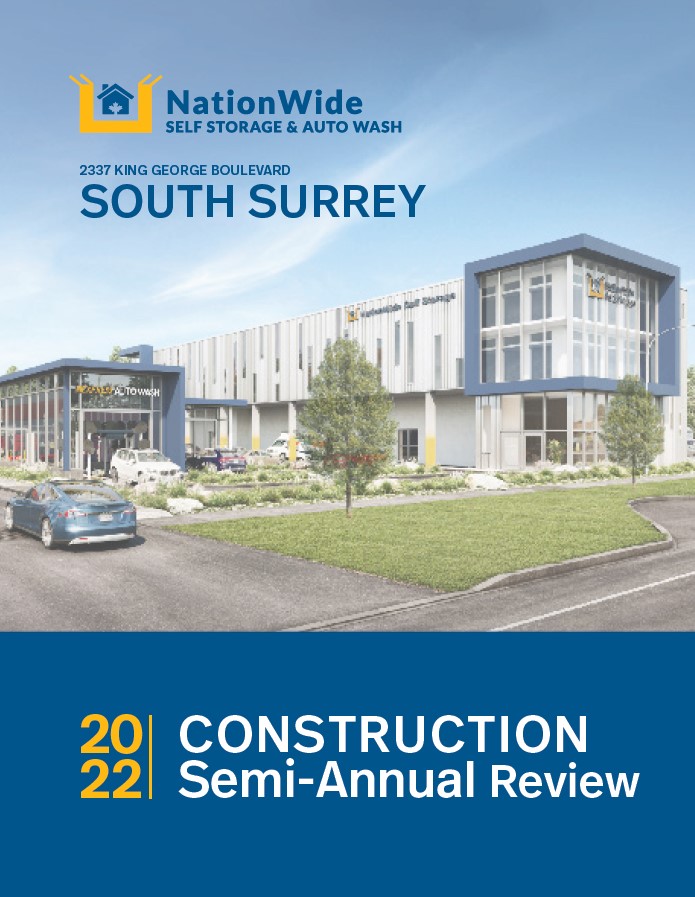 The Property is located at 2337 King George Boulevard. The 51,345 sq. ft. Property is in a high-profile and very visible location with easy access from the King George Blvd and 24th Ave intersection.
An 80,000 sq. ft. self-storage facility will be featured on the property and will have 3 above-ground levels (including the ground floor) and 2 levels of brightly lit basement.
In addition, an environmentally friendly, 4,000 sq. ft., 140' EDT (Exterior Detail Tunnel) system will also be located on the Property and called Express Auto Wash.
Crucial to business success, supply and demand are essential when building a business. Surrey's population is projected to surpass Vancouver's by 2030. The city is experiencing a boom of roughly 1,000 new inhabitants each month.
The growth is creating dense traffic and a lack of housing and services such as car washes and self-storage in the catchment area surrounding our South Surrey Property. Many upcoming new neighborhood developments are occurring in the region, and the Property is only minutes away from one of the largest retail corridors in the Lower Mainland.
As you are aware the South Surrey Property was purchased in mid 2019 and throughout 2020, we raised funds to complete the development. Our investment offering successfully closed in December 2020.
After many revisions back and forth between our architects, advisors, and the City of Surrey, we secured our building permit late August 2021.
To download the full construction review, click here.
DON'T MISS OUR UPDATES
Please email info@nationwideselfstorage.ca to be added to our email list and be sure to add our email address to your contacts so you don't miss our Investor Updates.
---
THE ABOVE INFORMATION IS SPECIFIC TO NATIONWIDE IV SELF STORAGE & AUTO WASH TRUST AND ITS PROPERTY AT 2337 KING GEORGE BOULEVARD, SOUTH SURREY, BC.
This information is general in nature and does not constitute an offer to sell or an advertisement, solicitation, or recommendation to buy securities. Nothing on these pages constitutes investment, legal or tax advice, nor was it prepared in consideration of the investment objectives, financial situation, particular needs of any specific recipient. There can be no assurance that investments will perform as or be of the quality anticipated. There are risks associated with any investment.