Feb. 15, 2023


We are pleased to provide this semi-annual summary update and review of construction, events and operational progress on NationWide II Self Storage & Auto Wash as of December 31, 2022.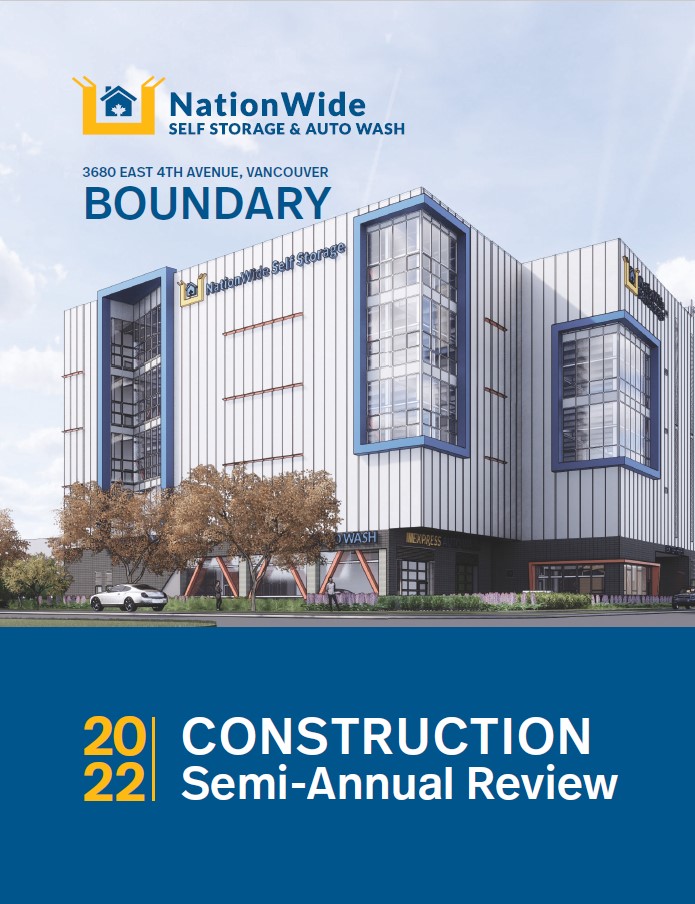 NationWide II Self Storage & Auto Wash (the "Property" or "Boundary)" is a high profile and prominently located, 0.66-acre site situated at 3680 East 4th Avenue, Vancouver off Boundary Road and Lougheed Hwy. The project comprises a self-storage facility and an indoor ground-level car wash tunnel.
The carbon-neutral self-storage building is an impressive 86,700 sq. ft., 5-storey structure that features modern architecture and design, enterprise level built-in security, and a keyless smart access system controlled via an app on your phone. This building is very noticeable as you drive by on Highway #1, Lougheed Hwy, or Boundary Road.
Location and convenience are everything when it comes to essential services like self-storage and a car wash. Our Vancouver and Burnaby neighbors and surrounding businesses have expressed excitement about having these services in their community.

SELF STORAGE OPERATIONS BEGIN
Construction began in Summer 2020, and we were finally issued a preliminary Occupancy Permit on December 7, 2022. A rolling opening has been underway since then for the storage facility. As more floors are inspected and approved, they will be open for rental and occupancy. (Read more…)
CAR WASH OPERATIONS START UP
Located in the same facility, the Express Auto Wash is now open and operating, with a Grand Opening Fundraiser promotional event kicking off the formal marketing campaign for the car wash.
The car wash also opened on December 7, 2022. The winter is typically the slowest period for car washes due
to the harsher weather conditions, but already 1,800 cars went through before year end. (Read more…)
To download the complete review and update, click here.
DON'T MISS OUR UPDATES
Please email info@nationwideselfstorage.ca to be added to our email list and be sure to add our email address to your contacts so you don't miss our Investor Updates.
---
THE ABOVE INFORMATION IS SPECIFIC TO NATIONWIDE II SELF STORAGE & AUTO WASH TRUST AND ITS PROPERTY AT 3680 EAST 4TH AVE OFF BOUNDARY ROAD, VANCOUVER, BC.
This information is general in nature and does not constitute an offer to sell or an advertisement, solicitation, or recommendation to buy securities. Nothing on these pages constitutes investment, legal or tax advice, nor was it prepared in consideration of the investment objectives, financial situation, particular needs of any specific recipient. There can be no assurance that investments will perform as or be of the quality anticipated. There are risks associated with any investment.