February 15, 2023
We are pleased to provide you this semi-annual summary update and review of events and operations for the year ending December 31, 2022.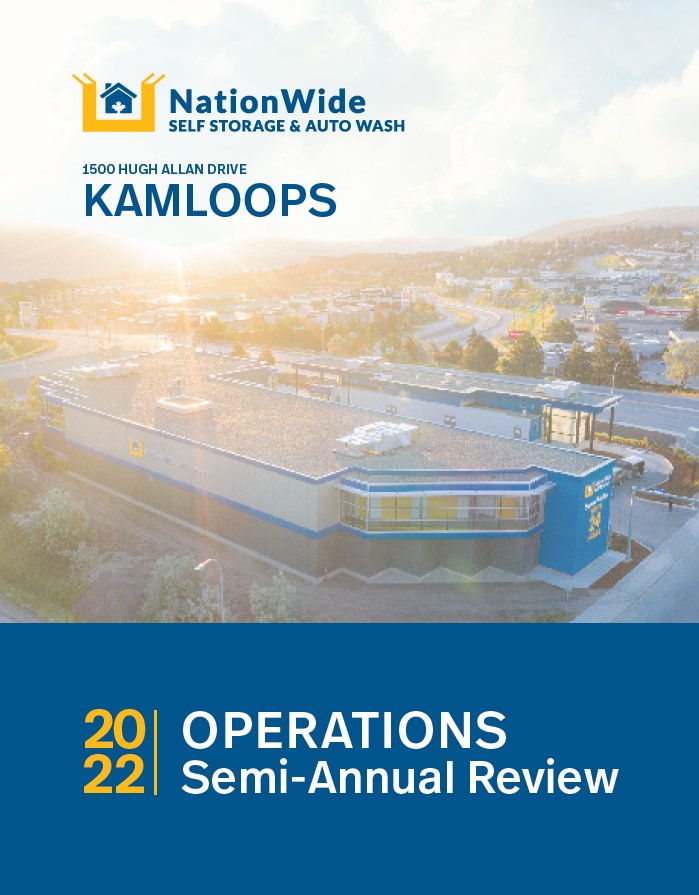 NationWide Self Storage & Express Auto Wash Kamloops (the "Property") is a dual-purpose property with a self-storage facility and automatic car wash business working in tandem with each other.
The Property is located at 1500 Hugh Allan Drive Kamloops, BC. The property is strategically located with easy access via the Trans-Canada Highway and Pacific Way, and just 5 minutes from downtown, Kamloops.
REPORT ON SELF STORAGE
The self storage facility is a three-story, 58,500 sq. ft., state of-the-art structure with the very latest in technology
including enterprise level built-in security and keyless
access control features.
The initial self storage buildout was to have 750 lockers. However, the City of Kamloops' planning and development department restricted us to only 468 lockers of varied sizes, as they would not issue a permit for our planned sky lockers.
The initial development included 468 lockers of varied sizes with the intention of installing an additional 250+ sky lockers at a later date. We are continuing to work with the City of Kamloops to secure a building permit for these sky lockers.
After our original opening with 468 lockers, we spent the next 2 years in meetings with various groups of engineers and city planners working to gain approval for the sky lockers. We are pleased to report that finally, in December
2022, we received our building permit to add the additional 290 sky lockers. This is welcomed news. (Read more…)
UPDATE ON EXPRESS AUTO WASH
Located on the same lot as the storage building, Express Auto Wash is a dynamic, environment friendly, 160′ EDT (Exterior Detail Tunnel) that can wash, wax, shine and dry up to 180 cars per hour.
Strategically located in a heavily trafficked and highly visible area off Pacific Way and the Trans-Canada Hwy, this exceptional corner lot Property is a mere 2 blocks from Costco, across the street from a very busy McDonald's and only 5 minutes from Kamloops' downtown core. (Read more…)
To download the complete review and update, click here.
DON'T MISS OUR UPDATES
Please email info@nationwideselfstorage.ca to be added to our email list and be sure to add our email address to your contacts so you don't miss our Investor Updates.
FOLLOW OUR BUSINESS ON SOCIAL MEDIA
THE ABOVE INFORMATION IS SPECIFIC TO NATIONWIDE SELF STORAGE & AUTO WASH TRUST AND ITS PROPERTY AT 1500 HUGH ALLAN DRIVE, BC.
This information is general in nature and does not constitute an offer to sell or an advertisement, solicitation, or recommendation to buy securities. Nothing on these pages constitutes investment, legal or tax advice, nor was it prepared in consideration of the investment objectives, financial situation, particular needs of any specific recipient. There can be no assurance that investments will perform as or be of the quality anticipated. There are risks associated with any investment.