February 15, 2023
We are pleased to provide you this semi-annual summary update and review of events and operations for NationWide I Self Storage Trust Pender, for the period ending December 31, 2022.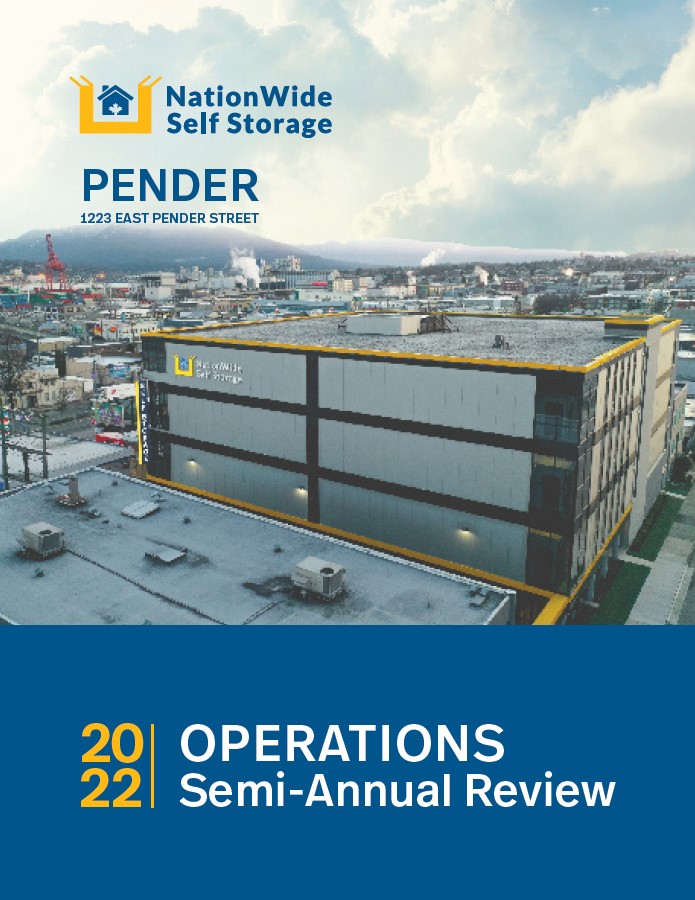 NationWide I Self Storage Trust Pender ("Pender" or the
"Property") is a AAA, Institutional Grade 58,500 sq. ft., highly
visible four-story state-of-the-art self storage facility. It features modern architecture and design, enterprise-level built-in security, and a keyless smart access system controlled via an app on your phone.
When it comes to storage in Vancouver, location, access and
convenience are key. This Property is strategically situated a
mere 5 minutes from central downtown Vancouver. Its location also provides easy access from main traffic arteries such as East Hastings Street, Clark Drive, Pender Street and the TransCanada Highway.
The initial development permit allowed for 560+ lockers of
various sizes with the intention of installing an additional 250+ second level sky lockers later as part of the phase II
development.
OPERATIONAL UPDATE
As previously reported in March 2022, the additional sky lockers were installed and marketing then commenced. As of
December 31, 2022, 86 of the 268 sky lockers have been rented. The monthly average rental rate dipped slightly
over the past 3 months which is typical for this time of the year. (Read more…)
To download the complete update and review, click here.
DON'T MISS OUR UPDATES
Please email info@nationwideselfstorage.ca to be added to our email list and be sure to add our email address to your contacts so you don't miss our Investor Updates.
THE ABOVE INFORMATION IS SPECIFIC TO NATIONWIDE I SELF STORAGE TRUST AND ITS PROPERTY AT 1223 EAST PENDER ST., VANCOUVER, BC.
This information is general in nature and does not constitute an offer to sell or an advertisement, solicitation, or recommendation to buy securities. Nothing on these pages constitutes investment, legal or tax advice, nor was it prepared in consideration of the investment objectives, financial situation, particular needs of any specific recipient. There can be no assurance that investments will perform as or be of the quality anticipated. There are risks associated with any investment.