September 2, 2022

We are pleased to provide you with a review of our progress as of June 30, 2022 for NationWide Express Auto Wash Trust ("NationWide") investment program for our development property in 1035 Lougheed Highway in Coquitlam, BC (the "Coquitlam Property").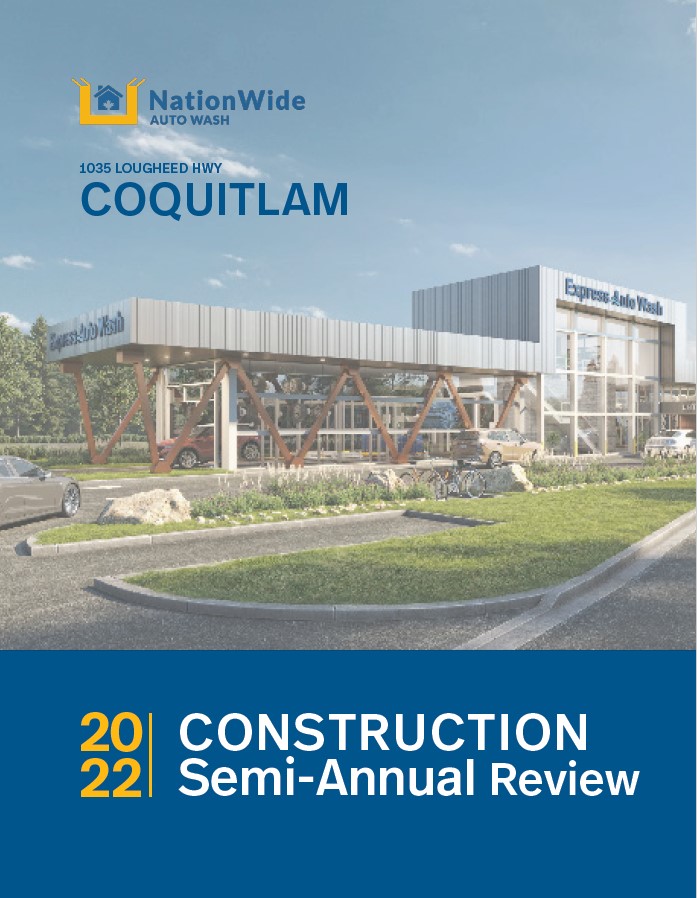 The 29,287 sq. Coquitlam Property will house a 5,000 sq.ft., 160' EDT (Exterior Detail Tunnel) system called Express Auto Wash. This very visible, high -profile Property is located right on Lougheed Hwy and just off the Trans-Canada Hwy. Situated right across from IKEA, the Coquitlam Property has approximately 56,000 – 63,000 vehicles passing by daily.
One of our favorite things about the Express Auto Wash tunnel is its environment-friendly aspects. The Express Auto Wash tunnel is designed with a complete water treatment system under the wash to recycle water and reduce waste. Express Auto Wash also has a sophisticated computer-controlled metering system that dispenses the precise amount of volume to provide an exceptionally clean, 3-minute car wash – with no wasted water.
At this stage, we continue to await final approval from the City of Coquitlam for the building permit. Waiting for this permit has been a lengthy process due to the continued City staff shortages and backlogs as a result of the COVID-19 pandemic. We are pressing hard and are hopeful that the permit will be issued by the third or fourth quarter of 2022.
To download a PDF of this update, click here.
DON'T MISS OUR QUARTERLY UPDATES
Please email info@nationwideselfstorage.ca to be added to our email list and be sure to add our email address to your contacts so you don't miss our Quarterly Investor Updates.
---
THE ABOVE INFORMATION IS SPECIFIC TO NATIONWIDE EXPRESS AUTO WASH TRUST AND ITS PROPERTY AT 1035 LOUGHEED HWY, COQUITLAM, BC. TO REVIEW OTHER PROPERTIES RELATED TO NATIONWIDE SELF STORAGE OR EXPRESS AUTO WASH, PLEASE VISIT OUR WEBSITE.
This information is general in nature and does not constitute an offer to sell or an advertisement, solicitation, or recommendation to buy securities. Nothing on these pages constitutes investment, legal or tax advice, nor was it prepared in consideration of the investment objectives, financial situation, particular needs of any specific recipient. There can be no assurance that investments will perform as or be of the quality anticipated. There are risks associated with any investment.