October 31, 2021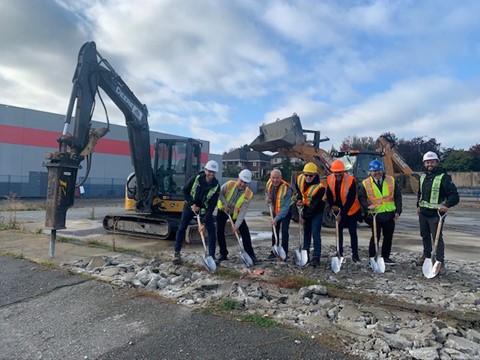 As previously reported the NationWide IV Self Storage & Auto Wash Trust ("NationWide") investment program for our development property at 2337 King George Blvd, Surrey, BC (the "South Surrey Property") was well received by the capital markets and the offering closed in November 2020.
BUILDING PERMIT
Nationwide is pleased to announce that the City of Surrey has now granted us both our building and development permits for our South Surrey and construction has begun.
APPOINTMENT OF CONTRACTORS
Subsequent to receiving our permits, we are pleased to report that we have now completed the assembly of our team comprised of an exceptional industry leader in project management ("BTY Group"), self-storage architectural, design and engineering ("BFA Architects") and self-storage construction ("Maple Reinders").
Throughout a competitive bidding process managed by BTY Group, we have awarded a fixed price construction contract to Maple Reinders Construction. With over 50 years of experience, Maple Reinders has been ranked as one of the Top 20 Contractors in Canada and as one of Canada's Best Managed Companies.
Besharat Friars Architects ("BFA Architects") have been selected by BTY for their third Nationwide project. BFA has successfully completed over 200 projects across Canada.
Initial estimates for build time is 16 months.
Self Storage Details
| | |
| --- | --- |
| Building Size | 80,000 sq. ft. (building only) |
| Building Height | 1 basement level, plus 3 floors above ground |
| Facility Profile | 65,000 sq. ft. net rent-able storage space including sky lockers, exclusive of parking, hallways, elevator(s), etc. |
| Number of Storage Lockers | 845 Est. |
| Average Locker Size | 70-80 sq. ft. |
| Targeted Completion Date | 1st Quarter 2023 |
Car Wash Details
| | |
| --- | --- |
| Car Wash Tunnel Size | 4,000 sq. ft. (building only) with a 140 ft. express EDT tunnel |
| No. of Car Washes | Maximum of up to 150 per hour |
| No. of Vacuum Booms | Approx. 10-15 dual-nozzle pivot stations |
To download a PDF of this update, click here.
This information is general in nature and does not constitute an offer to sell or an advertisement, solicitation, or recommendation to buy securities. Nothing on these pages constitutes investment, legal or tax advice, nor was it prepared in consideration of the investment objectives, financial situation, particular needs of any specific recipient. There can be no assurance that investments will perform as or be of the quality anticipated. There are risks associated with any investment.