Oct. 31, 2023
We are pleased to inform you that the business licenses and occupancy permit for NationWide IV Self Storage & Auto Wash (the "South Surrey Property" or "Property") were issued on October 31, 2023 by the City of Surrey and we are now open for business.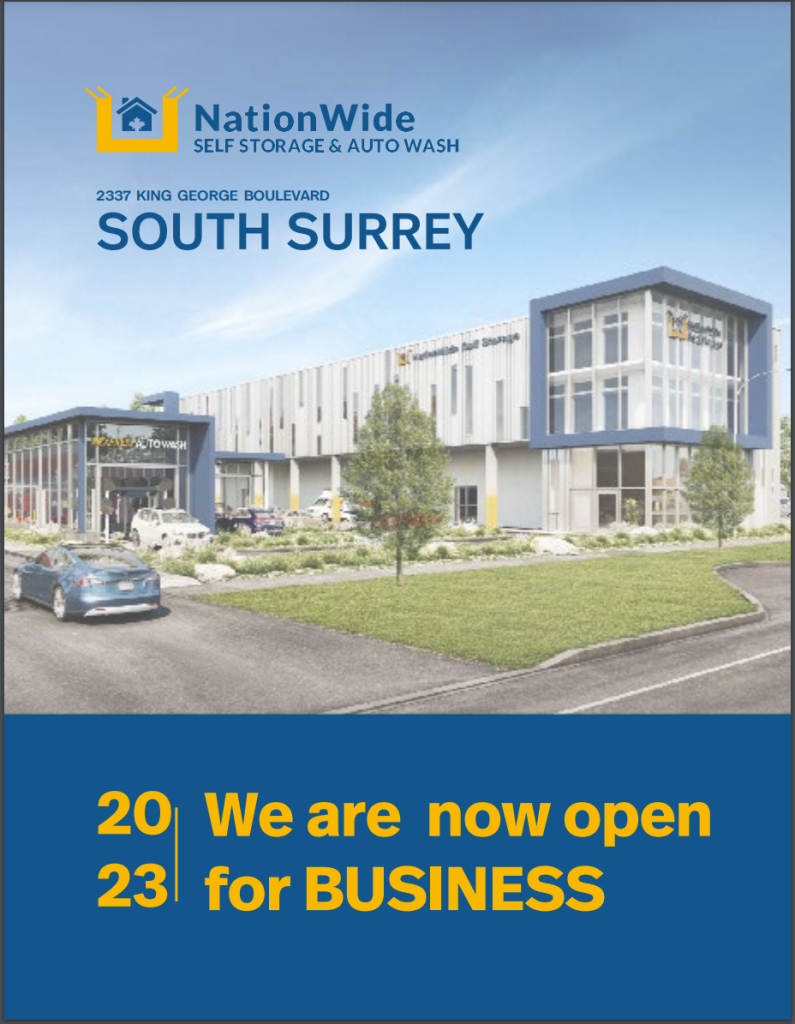 The Property is located at 2337 King George Boulevard. The 51,345 sq. ft. The property is in a high-profile and very visible location with easy access from the King George Blvd and 24th Ave intersection, one of the fastest growing
neighborhoods in Canada.
The 80,000 sq. ft. self-storage facility on the property has 2 above-ground levels (including the ground floor) and 2 levels of brightly lit basement providing a total of 673 Storage lockers. We have had a number of pre bookings for storage lockers so we look forward to getting the lockers leased up.
In addition, one of Canada's most technically advanced and environmentally friendly, 4,000 sq. ft., 140' EDT (Exterior Detail Tunnel) system is also located on the Property and called Express Auto Wash. This environment-friendly tunnel car wash can wash, wax, shine and dry up to 85 cars per hour with each wash being under 3-minutes. As with our other locations we will be launching a unlimited wash club membership. The Unlimited Wash Club memberships will be be implemented and structured with a view to retaining customers and providing reliable recurring income. The program provides a recurring revenue that is not dependent on seasonal changes like a classic pay by use model.
This has been a very eagerly awaited opening for the community and residents of South Surrey and there has been huge interest from the local businesses for both the car wash and self-storage facilities.
We thank our investors for their patience as we built through COVID and are very excited for the coming months.
Our next update will be in January 2024 with information on the first few months of operating business.
To download the full construction review, click here.
DON'T MISS OUR UPDATES
Please email info@nationwideselfstorage.ca to be added to our email list and be sure to add our email address to your contacts so you don't miss our Investor Updates.
---
THE ABOVE INFORMATION IS SPECIFIC TO NATIONWIDE IV SELF STORAGE & AUTO WASH TRUST AND ITS PROPERTY AT 2337 KING GEORGE BOULEVARD, SOUTH SURREY, BC.
This information is general in nature and does not constitute an offer to sell or an advertisement, solicitation, or recommendation to buy securities. Nothing on these pages constitutes investment, legal or tax advice, nor was it prepared in consideration of the investment objectives, financial situation, particular needs of any specific recipient. There can be no assurance that investments will perform as or be of the quality anticipated. There are risks associated with any investment.