March 8, 2022

We are pleased to provide you with this annual summary of events and review of our construction progress as of December 31, 2021.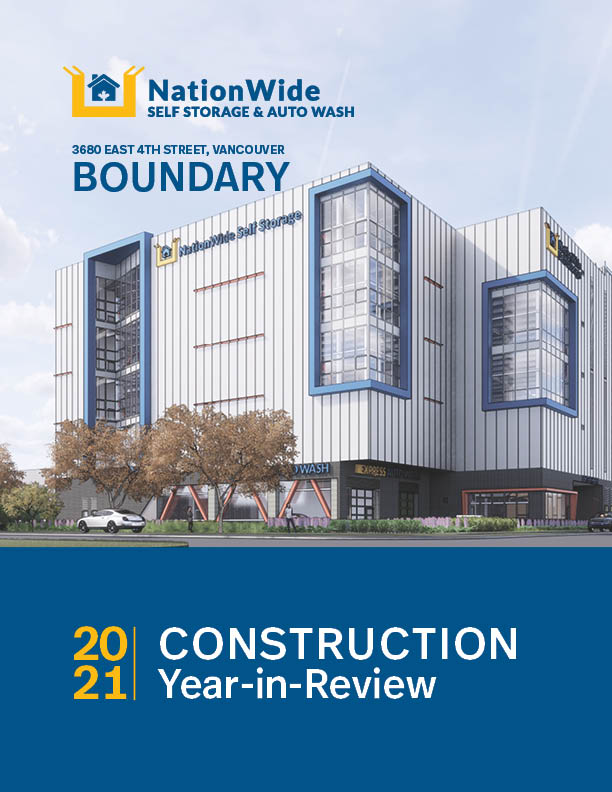 NationWide II Self Storage & Auto Wash located at 3680 East 4th Avenue off Boundary Road and Lougheed Hwy (the "Boundary Property") is a high profile, highly visible, 0.66-acre site that will feature a state-of-the-art, carbon-neutral, modern self-storage and an indoor ground-level, environment-friendly car wash tunnel.
Currently, under construction, the carbon-neutral self-storage building will be an 86,700 sq. ft., 5-storey structure, that features modern architecture and design, enterprise-level built-in security, and a keyless smart access system controlled via an app on your phone.
The car wash is an 80' EDT (80 ft. Exterior Detail Tunnel) system to be called Express Auto Wash. This environment-friendly tunnel car wash can wash, wax, shine and dry up to 85 cars per hour and, each wash will be under 3-minutes.

Location and convenience are everything when it comes to essential services like self-storage and a car wash, the Boundary Property literally has it all.
To download the full annual review, click here.
Please note, going forward all investor updates will be provided as of June 30th and December 31st each year. The next June 30th update will be provided on or before July 31, 2022.
---
THE ABOVE INFORMATION IS SPECIFIC TO NATIONWIDE II SELF STORAGE & AUTO WASH TRUST AND ITS PROPERTY AT 3680 EAST 4TH AVE OFF BOUNDARY ROAD, VANCOUVER, BC.
This information is general in nature and does not constitute an offer to sell or an advertisement, solicitation, or recommendation to buy securities. Nothing on these pages constitutes investment, legal or tax advice, nor was it prepared in consideration of the investment objectives, financial situation, particular needs of any specific recipient. There can be no assurance that investments will perform as or be of the quality anticipated. There are risks associated with any investment.