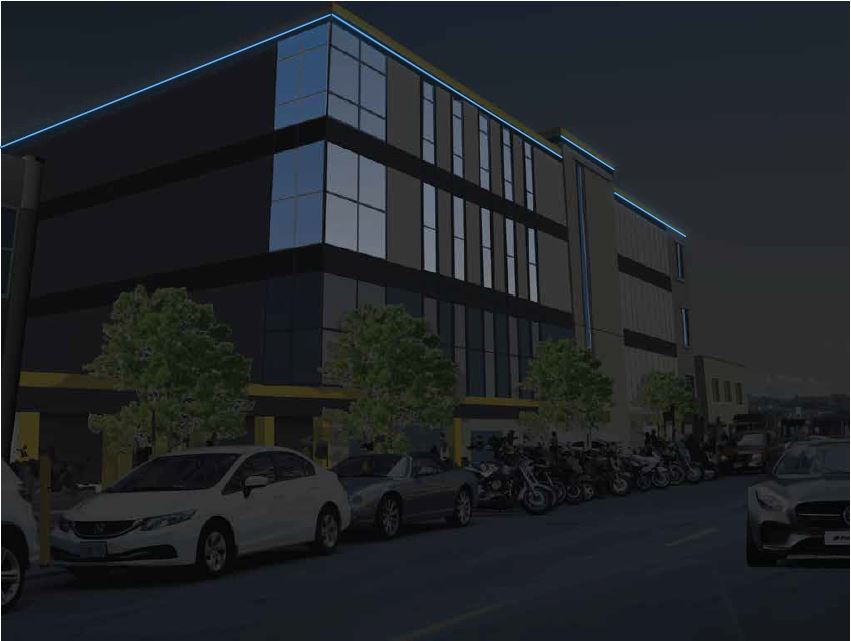 THE GEORGIA STRAIGHT | REAL ESTATE | Carlito Pablo
An East Vancouver storage facility wants to join a growing club of buildings illuminated by exterior accent lighting.
Accent lighting adds an aesthetic touch to a structure, making it stand out in its surroundings.
If approved by cityhall, NationWide Self Storage will be highlighted in soft blue during the night at its 1223 East Pender Street location.
"The subject property is a new development and we are looking to implement the latest in soft architectural accent lighting in order to contribute to the beautification of the property and neighborhood," Priority Permit's Jordan Desrochers wrote in a letter to the city.
According to Desrochers, the project will use low-voltage LED [light emitting diode] devices that are "pleasing to the eye", and will add an "artistic flair to the property".
Desrochers noted that accent lighting is found in a number of Vancouver buildings like the one at 1625 Manitoba Street.
He was referring to Millennium Development Corporation's Shoreline condo project in the Olympic Village, which features blue accent lighting.
Like Shoreline's, the proposed accent lighting for NationWide will be installed along the top of the building.
Desrochers also said that new high-rise residential towers at the Brentwood town centre in Burnaby, and Surrey city centre "use this architectural lighting to improve the appeal" of the buildings.
"Our proposed lighting is a very soft blue, with a smaller overall footprint," according to Desrochers.
He also said that the proposed lighting is similar to the canopy accent lighting used by a Chevron gas station on East Hastings Street, which is across the alley from NationWide.
"Our client is willing to work with the city on adding a dimmer and timer for a specific section of the lighting if necessary and will consider any other recommendations if needed," Desrochers wrote in the letter.
NationWide describes its business as Vancouver's first keyless self storage.
Opened in December 2019, the 58,500-square-foot building is home to more than 800 storage lockers.
A real-estate trust company purchased the 1223 East Pender location in 2017 for the purpose of developing a storage facility.
The firm plans to open three more facilities in Vancouver and Kamloops.
The company's application to use accent lighting will require a change in its development permit.
The City of Vancouver will receive comments from the public about the project until May 11, 2020.
THE GEORGIA STRAIGHT  | by Carlito Pablo on May 5th, 2020  |  Original Article